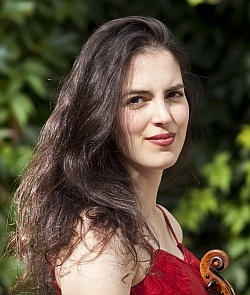 Sophia Jaffť
violin

"SPELLBINDING is the only way to describe Berlin-born Sophia Jaffe's exhilarating performance at Saturday's Halle-hosted promenade concert.

The exciting young violinist was stunning in Max Bruch's ultra-popularviolin concerto."

Marina Berry, Oldham Evening Chronicle

 

"Although the Shostakovich 2nd Violin Concerto is extremely demanding (it seems almost impossible to play it), the new star of the violin performed it with bravura perfection."

Kšrntner Tageszeitung

 

"Violinist wows Anvil audience"

Lucie Richards, Basingstoke Gazette

 

Sophia Jaffť, graduate of Music school "Hanns Eisler" in Berlin (2006), prize holder of international competitions, (i. a. 3. prize in Elisabeth Music Competition in Brussels), fascinates the European audience with clear technique, inner acting and deep emotional testimony.