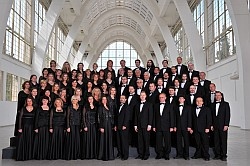 Czech Philharmonic Choir Brno
"The Czech Philharmonic Choir Brno is excellent ensemble performing on the highest level."

Christoph Eschenbach, conductor

 

"After all my experience at home and abroad, after many concerts in various parts of the world I can say with full responsibility and conviction that at present the Czech Philharmonic Choir of Brno is clearly the best choir in the Czech Republic and one of the best choirs in Europe. Your presence at first-class stages and podiums, top-class festivals and prestigious concerts, cooperation with the best orchestras and conductors proves your quality. I am proud of the fact that this choir is at home in Brno."
Petr Altrichter – ex-chief conductor, Brno Philharmonic

 

"... Czech Philharmonic Choir of Brno presented a true demonstration of the art of singing. From the cleanest pianissimos to heroic fortissimos, the Czech choir showed a musical feeling of rare quality..."


"... the superb Czech Philharmonic Choir of Brno started singing delightful a capella Ukvalske Songs (Songs from Hukvaldy). After the interval the choir returned with the London Philharmonic Orchestra, Slovak soloists and a newly built-up organ in order to present together a roof-lifting performance of Janáček's masterpiece, the Glagolitic Mass. The orchestra was surpassing itself, the choir was as fabulous as one could ever wish for, the soloists just right and the organ solo... stunning! What music! What a performance! Thank you, Maestro Masur. We went home with a feeling that the world was alright, albeit just for a moment."